Personas
Firstly, let's create a persona group. Our persona group is called 'Visitors' as it will contain personas of different types of website visitor. Check the Advanced settings of your persona group. Note the default Threshold value of 25. This score needs to be reached before our visitor profiles become active. Note also the Maximum points to score of 10. This is the maximum amount that any individual item can score towards activating our profiles. These details become important later on.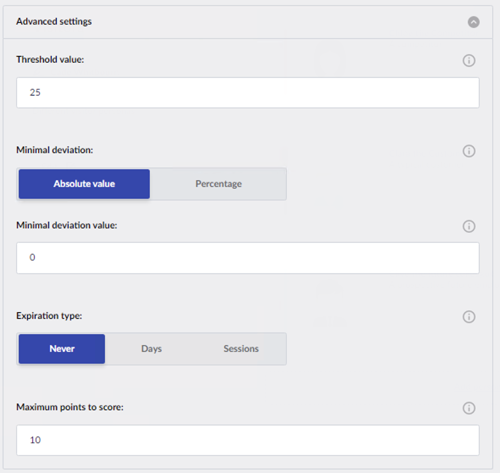 Next, we create 3 personas. These personas need to represent typical users of our website. For Aceik, let's create:
Clive, the future colleague (prospective employee)
Chloe, the competitor (from another digital consultancy)
Clara, the customer (interested in our digital services)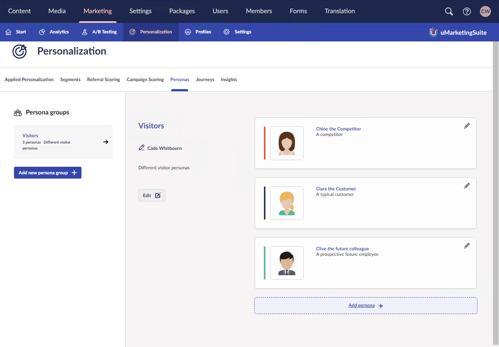 Journeys
uMarketingSuite comes with 1 default customer journey, based on a model developed by Google. You can customise this or create your own from scratch. The customer journey step is about establishing a broad sequence of phases that we want our visitors to progress through. For the Aceik website, the default journey works well; we want our visitors to
Become aware of Aceik (See)
Consider Aceik (Think)
Interact with Aceik (Do)
Partner with us (Care)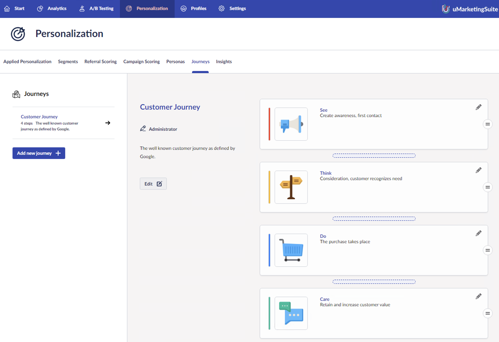 Goals
Website goals are a must-have. What is the purpose of your website? What actions do you want visitors to your website to take? What will you track and measure to understand if your website is performing correctly? What must you focus on if you wish to continuously improve your website? Goals, Goals, Goals.
And more specifically concerning personalisation and testing, if you don't have goals in place, how will you know if your optimisations are effective and successful? Without goals, the whole activity loses meaning and value.
Goals are easy to set up in uMarketingSuite. The easiest kind of goal is based on pageview, but you can also configure goals based on events or custom code. For Aceik, we want our website visitors to view our work, and make contact. Our website goals relate to specific pages of content we want them to view and 'thank you' pages relating to successfully submitted contact forms.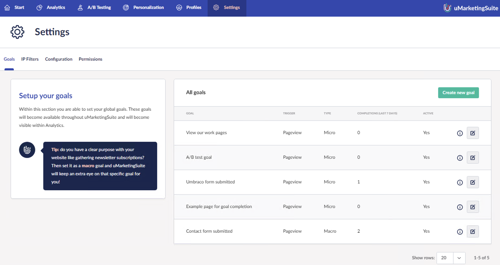 Segments
Segments are subsets of your website visitors. Segments are the basis upon which you deliver personalised experiences. Segments can utilise the implicit data generated by the personas and journeys we have just set up. Segment can also use explicit data based on actual visitor information (e.g. browser type, time of day, number of sessions etc).
uMarketingSuite allows for the creation of temporary (time-relevant) segments (e.g. relating to a campaign) or core segments (ongoing). We will create 6 core segments for Aceik.com.au
Clive - all visitors who match our Clive persona
Chole - all visitors who match our Chloe persona
Clara - all visitors who match our Clara persona
All users who have completed a contact form on our website
Visitors who visit our site via a promotional campaign link
Visitors browsing our website before 12 noon
We will use all 6 of these segments in the personalisations to come. The uMarketingSuite segment builder is simple yet powerful. The parameters are differentiated by whether they are implicit or explicit. Normally, you would create these segments once you had determined exactly the personalisations you wanted to deliver. In our case, we will get to that in part 2 of this blog series.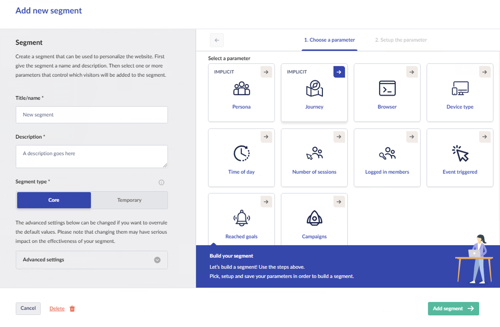 Score content, campaigns, referrals
The final step in establishing the foundations for personalisation and testing is scoring. In uMarketingSuite we can score content, campaigns and referrals. Scoring is where the threshold values and maximum points from earlier become relevant. Essentially, this step is about scoring each element of the website experience with respect to a relevant persona or journey. Each item can receive a score of up to 10, and once a threshold of 25 is reached, the visitor will be assigned to that particular persona or journey. For example, on the Aceik website, we have content that is written for prospective employees. We need to score that content highly regarding our Clive persona. Our Content scoring for Clive is as follows:
Visitor views 'Contact us' page. Score = 5
Visitor views 'Work for us' page. Score = 10
Visitor views blog post 'Come and work with the A team'. Score = 10
These 3 content scores give us a total of 25. If a visitor views all 3 pages, their profile will be assigned a persona of Clive. This will then put that visitor in our related Segment. And Personalisations can be activated off that segment :)
Similarly, links from referring websites or campaigns can be scored. For example, if a visitor to the Aceik website comes from a link on Seek.com.au, that referral should be scored as a 10 against our Clive persona. Alternatively, we might tag any job links posted on Linkedin with a UTM campaign value of "positions-vacant". These campaign links would also be scored highly against our Clive persona.
That's it for the setup steps. Now with these things in place, we can start to build our tests and personalisation. The next post in this series coming soon...