Sitecore recently introduced early access to a powerful new tool within XM Cloud that focuses on building components. This versatile tool goes by various names, including XM Cloud Component Builder, Sitecore's Front End as a Service (FEaaS), and Sitecore's Experience Studio. However, for simplicity's sake, we'll refer to it as XM Cloud Components in this discussion.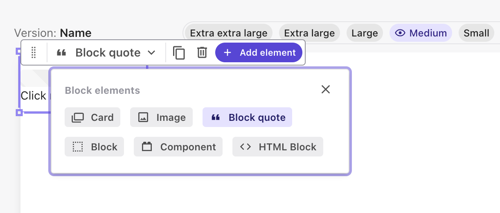 Before diving into our thoughts on XM Cloud Components, let's talk about FEaaS. FEaaS is all about streamlining and expediting the design and construction of the front-end elements of digital products through the use of cloud-based tools and capabilities. In essence, FEaaS solutions aim to eliminate the need for ongoing code-writing by developers when making front-end changes. This shift empowers non-developer team members to efficiently design, create, and deploy front-end changes putting the focus squarely on the design and user experience. The potential of FEaaS solutions is truly exciting!
Key features commonly associated with FEaaS solutions include:
Low/No Code Design and Styling Tools: These tools enable the building of user interfaces with minimal or no coding.

Reusable Component Library: Users can create a library of reusable components, fostering efficiency and consistency.

Responsive and Cross-Browser/Device Considerations: Ensuring that components work seamlessly across various devices and browsers.

Accessibility and Performance Considerations: Taking into account accessibility standards and performance optimization.

Collaboration and Version Control Capabilities: Features that promote teamwork and track changes.